(Please be aware that preorders need to be made BEFORE May 1)
Join the Evolution!
The Pathfinder Playtest officially launches on August 2, 2018!
In 2008, Paizo launched an unprecedented public playtest aimed at updating the third edition rules to make them more fun, easier to learn, and better able to support thrilling fantasy adventures. More than 40,000 gamers just like you joined in the fun by playtesting the new Pathfinder RPG rules and providing feedback, and the rest is gaming history. Now, 10 years later, it's time to put the lessons of the last decade to use and evolve the game once again. It's time for Pathfinder Second Edition!
Pathfinder Playtest Features
The new Pathfinder Playtest rules are the first step in the evolution to the new edition. We have incorporated the best innovations and lessons of the last 10 years to move the game forward in new and exciting ways. As we count down the days to the Pathfinder Playtest Rulebook release, we'll be revealing more information on the following topics (and more!) on the Paizo blog:
10th-Level Spells and 4 Spell Lists
Alchemists in Core
Archetypes and Multiclassing
Class Changes
Classic Monsters and Magic
Clean, Modular Information-Based Design
Combat Maneuvers that Rock
Designed for All Levels of Play
Easier to Play
Goblin Player Characters
Golarion-Infused
Heroic Storytelling
Innovative Initiative
More Customization
New Background System
Pathfinder Society
Production Values
Race Changes and Feats
Rebalanced Magic Items
Simplified Actions
Streamlined Proficiencies
Support
True to Pathfinder
Wayne Reynolds Art
Pathfinder Playtest Products
All Pathfinder Playtest products will be released as FREE downloads exclusively at paizo.com on August 2, 2018. On the same day, we'll release limited-edition print versions of the Pathfinder Playtest Rulebook, Pathfinder Playtest Adventure, and Pathfinder Playtest Flip-Mat Multi-Pack for players and Game Masters seeking the ultimate playtest experience. These print editions will be available for preorder from local retailers now and paizo.com between March 20 and May 1. We'll also have copies at the Paizo booth during Gen Con 2018 in Indianapolis on August 2–5.
Paizo will not reprint the Playtest Rulebook or Pathfinder Adventure, so players must preorder to ensure they do not miss these items. We have created a preorder form you can print out and take to your local retailer, or you can preorder print editions from paizo.com between March 20 and May 1.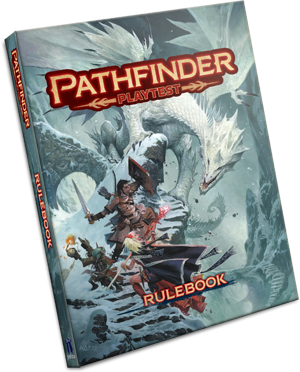 Pathfinder Playtest Rulebook
This massive 400-page rulebook contains everything you need to create characters and run Pathfinder Playtest adventures from levels 1–20! With gorgeous new illustrations by Wayne Reynolds, the Playtest Rulebook lights the path leading directly to Pathfinder's future. Available in three editions: softcover, hardcover, and deluxe hardcover with foil-debossed faux-leather cover and ribbon bookmark.
Pathfinder Playtest Adventure: Doomsday Dawn
This 96-page super-adventure contains seven multi-encounter scenarios designed to introduce the new rules and put them to the ultimate test on your game table! With adventures spanning all 20 levels and featuring most of the game's newest rules, Doomsday Dawn provides a thrilling tour of the new rules, and of the Pathfinder world itself!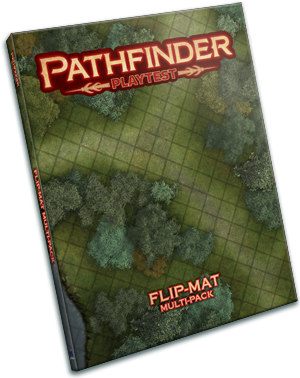 Pathfinder Playtest Flip-Mat Multi-Pack
Throw your heroes into the action with this collection of two double-sided Flip-Mats for use with the Playtest Adventure. These beautiful full-color maps measure 24″ x 30″ unfolded and set the scene for climactic battles that will determine the future of Pathfinder! The maps' erasable surface can handle and dry-erase, wet-erase, or even permanent markers.